The peephole allow us to see without being seen. They are used to verify the identity of your visitors before opening them. This is an additional safety measure.
Installing a door peephole, whether optical or digital, should be at eye level. Account must be taken of the size of all persons in the home, including children.
There are two types of solutions:
The conventional optical peephole composed of a viewfinder and lens, with an angle of view wider or narrower depending on the model.
The digital peephole, including a mini-camera that has many technical advantages (sharper image, recording in your absence, suitable for disabled people …)
The first category is less expensive but offers fewer opportunities.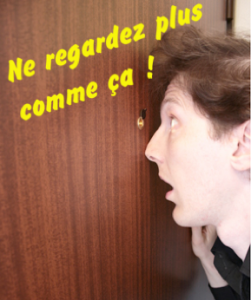 Digital peephole exert a greater deterrent to potential burglars. These mini-cameras, battery-powered or battery. The image is displayed on an LCD screen of variable size depending on the model.
Advantages :
– More focus even when there is insufficient light (some devices even offer night vision thanks to their infrared option)
– Automatic recording of the image of your visitors, including in the absence (trip by ringing or by a motion sensor, depending on model)
– Depending on the model, ability to zoom in or receive an alert on his phone in case of absence
Budget :
Traditional peepholes offer a suitable solution if you have a small budget, since they cost between 25 and 45 euros depending on the length and mode of vision (magnifying effect, angle …)
Digital peephole return significantly more expensive, from 100 to 350 € about depending on the desired options.
The price of the installation is between 60 and 90 €.